Fender Side Rear Right Dx From 1974 for Volkswagen Golf Gti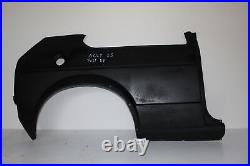 VOLKSWAGEN GOLF GTI MUDGUARD REAR RIGHT SIDE SINCE 1974. For ANY INCONVENIENCE, WE ARE AT YOUR DISPOSAL AT THE FOLLOWING CONTACTS; OFFICE: 0776871853 MOBILE: 3465733170 - 3922255107 WHATSAPP: 3922255107. CONTACTS Our offices are open from Monday to Friday from 9.00 to 13.00 and from 15.00 to 18.00. How can I exercise the right of withdrawal?

BILLING How can I receive the invoice? STOP AND GO SRLS VIA SFERRACAVALLO 2 03039 SORA (FR) P.